Special Events & Concierge Service
Log Escape can accommodate many different types of Special Events from Family gatherings to hosting Business Events. Many of our corporate clients book Log Escape for business strategy sessions, team building exercises, product launches or just to getaway for a game of golf.
We can look after many of the small details with our concierge service including:
Arranging for a Chef & Gourmet Meal
We have a great contact in Parry Sound at Northern Paradise Events who specializes in catering all types of events. She can arrange to help you organize corporate events, plan special theme night dinners or bring in a gourmet chef to teach cooking classes.
Grocery Shopping
There are many grocery stores in Parry Sound including Sobies, No-frills, Walmart, and many local bakeries and deli shops. There is also a local grocery and liquor store on South Sandy Plains road just 5 minutes away.
Audio Visual Rentals
Audio visual rentals can be arranged by Northern Paradise Events for any of your corporate and special events.
Photography Session at the Cottage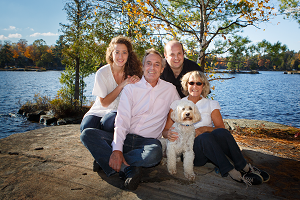 There are quite a few Photographers in the area but we recommend John Brisbane at Bay Shore Photography. John is a full time, professional, wedding and portrait photographer, and the driving force behind Bayshore Photography. They have a well equipped studio near Parry Sound.
A quote from him, "I love to travel and have done destination wedding and travel photography in many parts of our world. This growing list includes many parts of Ontario as well as Alberta, British Columbia, Canada's east coast, Botswana, Cuba, Chile, Costa Rica, Ecuador, the Galapagos Islands, Kenya, Mexico, Namibia", South Africa, Tanzania and Zambia.
Visit their website by Clicking Here
Yoga or a Spa Day on the Dock
Perfectly pampered is a great organization that caters to all of your needs:
"Looking for something new this summer Perfectly Pampered is offering the ultimate in pampering with their cottage spa services. We will come to you offering a variety of services for you and your guest.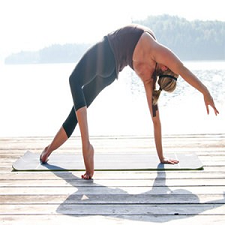 A great thing for a girls weekend, family reunions, bridal showers, birthday party, staff appreciation or any other reason to just get together. Planning a spa party is easy and fun. We bring everything you need for a relaxing spa experience, massage tables, hot cubbies, music, pillows, towels, sheets and everything else.
you have to do is provide a relaxing space for us to do our spa services. We have worked on decks, docks, bedroom, and family-room, anywhere you and your guest will feel comfortable.
Our summers book up fast so please e-mail us or call us today at 705 746-6549 to avoid any disappointment."
Boat Rentals, Snowmobile Rentals, ATV Rentals or a Customized Activity Day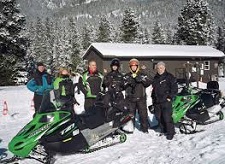 In Parry sound there are many different adventures to keep you and your party busy during all the seasons. Bear Claw Tours provides the ultimate Georgian Bay adventure from Team Building events to Fly and Ride guided tours on Haines Lake.
"For those who want it all!" Put on your adventure hat and get in! We'll fly you to Haines Lake, where you will be met by Bear Claw Tours and taken on a half day guided ATV adventure. Drive your own ATV through the rugged Ontario wilderness, and have a truly Canadian Adventure! Reservations required.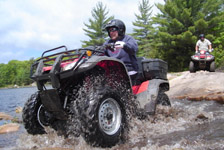 Let Bear Claw Tours arrange an All Terrain Vehicle (ATV) guided tour for your group. Hundreds of customers have joined our adventures and thrilled to the challenges the Canadian Shield has to offer. Located in Parry Sound Ontario, we specialize in novices and experts alike.
Our full safety and operational briefings will prepare you for an AWESOME experience. All tours are accompanied by fully trained guides, include all equipment plus trailside refreshments and snacks.
To view a list of some of our Corporate Adventurers … click here. For more information adventure@bearclawtours.com or call 705 746-9481
For Boat and Snowmobile rentals we suggest Near North Recreation. "Add some excitement to your winter getaway! We have a number of Arctic Cat single passenger, performance and touring sleds with electric start and reverse for your winter enjoyment!"
Visit their website here or call them at 1-866-997-4228
Guided Fishing Ttrips with Georgian Bay Fishing Charters.
LAKE TROUT FISHING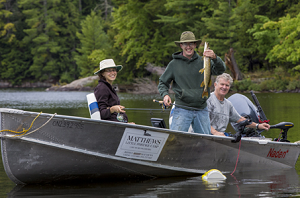 On a typical 6 hour charter we boat an average of 10 fish and an average lake trout is about 6-8 lbs but 20+ lb fish (like the one above) are not uncommon. We use downriggers and fish at depths from 40-100 ft depending on the time of year.
BASS & PIKE FISHING
Private charters for bass or pike may also be arranged, subject to availability. The contact information is:
11 Bay St.
Parry Sound, ON
Tel: 705-774-2449
curtis@parrysoundfishingcharter.com
Guided Canoe/ Kayaking/Paddle Board Trips on Georgian Bay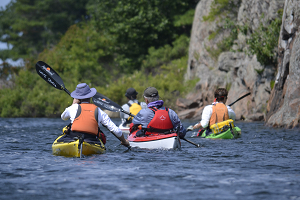 White Squall of Georgian Bay is one of the finest eco friendly adventure organizations you can find. Pat and I have been on 2 trips with them and all I can say is WOW…..the guides, equipment and organization are outstanding. Here is a quote from them: "The coast & islands of the Georgian Bay Biosphere are where we camp, paddle, play and explore. Squall excursions are all about the excitement, challenge and joy of camping in the 30,000 islands. We are with you every step of the way, and each of our guides has their unique style of travelling, interpreting and teaching you the ways of the Bay. It's how we started, and we're still finding wonderful places to paddle – and hope you can join us!"
Their contact information is:
White Squall Paddling Centre
53 East Carling Bay Rd.
Nobel, Ontario, Canada P0G 1G0
705 342 5324
info@whitesquall.com